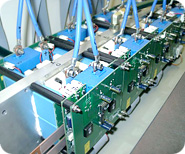 We offer:
Complete delivery of power electrical equipment, equipment for power units, IGBT modules, frequency converters for asynchronous motors.
Technical support of our customers on the use of the whole range of completing parts.
We offer IGBT modules, drivers, radiators, semiconductor relays and devices, circuit breakers, temperature sensors, fans, module power packs, capacitors, resistors, transformers.